In the video, stars take turns reading from youth activist Malala's description of the culture of fear which prevented girls in her region from attending school.
At the age of 15, Malala was shot by Taliban gunmen on her school bus in retaliation for speaking out about the Taliban's closure of girls' schools. She has now made a name as an international voice on behalf of children's rights and spoke at the recent We Day UK festival to announce the 'silent stand' campaign.
Famous faces appearing in the video, produced by the Malala Fund in association with international charity Free The Children, also include home-grown celebs Clive Owen,
Orlando Bloom
and Harry Potter star Evanna Lynch.
The 'silent stand' campaign encourages anyone who feels impassioned by the cause of universal education and wellbeing for children to take a vow of silence on April 17 in honour to those around the world who have been silenced.
This includes not only children who are denied an education because of their gender, but also all children around the world who are bullied, abused or exploited and are unable to speak out to defend their rights, whether through fear, violence or lack of access to power.
The stars taking part will be posting the word 'Shhh' on their social media profiles, accompanied by pictures of themselves with a finger held up to their lips.
Those interested in the campaign can use the hashtag #WeAreSilent to signal their support and follow updates throughout the day.
http://www.parentdish.co.uk/2014/04/10/malala-yousafzai-we-are-silent-april-17/



Plus, more pics from Jordan:

Orlando Bloom visited Mohammed and his 5 children in #zaatari refugee camp.
Mohammed left #Syria 11 months ago, says its the most difficult experience in his life #OBinZaatari
Today, Orlando Bloom takes Mohammed's daughter, Najah, 12 years old #back2school in #zaatari after being out of school for the past 3 months

"The hope is education. The hope is rehabilitation. The hope is connecting these children's heads 2 their hearts," says UNICEF Goodwill Ambassador Orlando Bloom #OBinZaatari

source www.facebook.com/UNICEFJordan




source orlandobloomdaily, twitter.com/ZaatariCamp via OrlandoLove, twitter.com/DanaDodeen, twitter.com/UNICEFmena

EDIT: two videos from Walk of Fame ceremony, watch them

(

under the cutCollapse

)
A-listers such as Oscar-winner Jennifer Hudson, Edward Norton and Selena Gomez have joined Malala Yousafzai's campaign to raise awareness of access to education for girls.


credit to twitter.com/luciomelandri, twitter.com/AlaaMalhas




source twitter.com/UNICEFJordan

You can also watch to new videos from Zulu, dubbed in German. Go to this link:
http://www.trailerseite.de/film/14/ausschnitte/zulu-am-strand-29734.html
Orlando is actually in Jordan as UNICEF Ambassador, to meet Syrian refugees. He met Aala family in Amman, one of thousands escaped from war in Syria:
This week we started the long journey to watching all the new shows for the season. Join us, for another week, another show, with more otaku-tainment!
This week we started the long journey to watching all the new shows for the season. Join us, for another week, another show, with more otaku-tainment!
http://wilwheaton.net/2014/04/its-tuesday/
It was just after midnight, but thanks to the heatwave we're having, it was still unseasonably warm. I walked comfortably in my T-shirt along a tree-lined street, the scent of orange blossoms filling the air.
A few miles away, cars on the freeway created a sort of white noise that I could pretend was a distant river. I looked into the sky, and saw Mars, red and beautiful above Vega, so bright it nearly outshone the brilliant white star.
I walked through the warm night, replaying the incredible events of the last few days, marveling at how lucky I am to be who and where I am. I walked into my house, and my dogs greeted me at the door. After inspecting me in the usual fashion, they trotted back into my bedroom, where I'd soon be competing for a spot on my bed with them. My wife was asleep, and I gently kissed her forehead before I got ready for bed.
I woke up this morning before my alarm, my head resting against my puppy's head, who was sound asleep and snoring to my left. I moved, and she grumbled, stretched her legs, and snuggled back into me. From the foot of the bed, I heard Seamus' tale thump, and I heard Riley walk into our bedroom, her nails clicking on the wood floor. I opened my eyes and looked to my left. Anne was already out of bed, and likely out of the house. I arched my back, stretched my legs, and kissed Marlowe on her little puppy forehead. Riley had arrived to the side of my bed and looked at me with her I'M A DOG face.
I stayed in bed for a few more minutes, before getting out, petting my dogs, letting them out, making coffee, and getting into my office to start my day.
http://www.dorktower.com/2014/04/01/bobba-fett-cake-boss/?utm_source=rss&utm_medium=rss&utm_campaign=bobba-fett-cake-boss
http://dorktower.kovalic.com/?p=9521

Boba Fett, Cake Boss
It was my nephew's 13th birthday, Monday. So the Lovely and Talented Judith,  Daughter, Age 5, and I spent the weekend with family, in the great city of St. Louis.
My nephew's a great kid, and is currently in a Star Wars phase. But I repeat myself. He also got Daughter, Age 5, interested in Star Wars (prying her away from the Frozen Blu-Ray that she's now watched ooooooh let's just call it sixteen times in the last two days, not that anyone's counting).
So, when my nephew  was asked what kind of birthday cake he wanted, his answer, naturally, was "Boba Fett."
To which someone then replied "hey – Uncle John can make that. HE'S an artist!"
"He's an artist,"  I truly believe, is a phrase that every cartoonist dreads. These few words can cover a variety of tasks people assume you're well-suited for, including (but not limited to) portraiture,  caricature, graphic design, layout, mural painting, sculpture and, yes, cake-decorationg.
I have decorated a couple of cakes for my daughter, in the day. Mostly, I fall back on whatever skills I've acquired from modeling battle terrain for my Warhammer miniature wargames. For example, Daughter's 4th birthday cake, which she wished Jake and the Neverland Pirates-themed: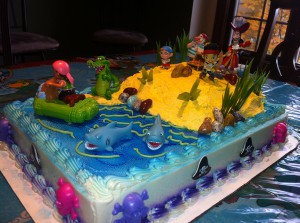 And her 5th birthday cake, which she wanted to be a "Princess and Ponies" mashup: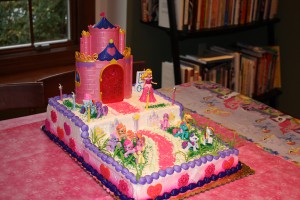 If it was up to me, I could have created a TERRIFIC Battle of Hoth cake for my nephew. Instead, I had to work with frosting (not a medium I'm comfortable in) atop other frosting (the world's worst canvas). Freehand. While the entire family was watching.
It wasn't great, but, look, I'm not gonna lie here – it didn't turn out too badly, and I felt pretty darned OK about myself and my ongoing quest to become Favorite Uncle.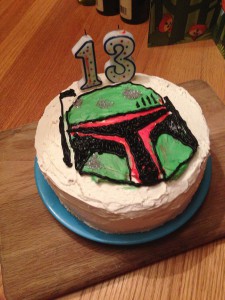 Obviously, this being 2014, I immediately posted the picture to Twitter.
Where someone then brought it to the attention of the Bobba Fett fan club account.
Where things got hellacool.
Daniel Logan, the actor who played the young Bobba Fett, saw it, and tweeted "Looks great to me!"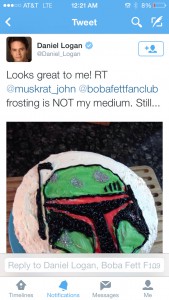 Boba Fett saw my freaking Boba Fett cake. 
This is me, letting that sink in for a second.
So the night before my nephew's birthday, I was getting ready for bed, feeling pretty chuffed with myself. In the morning, I thought, I could let my nephew know that Boba Fett himself approved of his cake. Grateful for this bit of geeky goodness, I tweeted Daniel, to let him know he'd be making a young boy's day. To which he replied: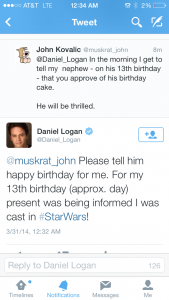 "Please tell him happy birthday for me. My 13th birthday (approx. day) present was being informed I was cast in #StarWars."
Thus it came to pass that the next morning, before school, my nephew found out that not only did Boba Fett approve of his cake – HIS! – but that Boba Fett also wished him, specifically, a happy birthday.
There really aren't words to describe the look on his face.
Anyway, this is just my very, very wordy way, then, of saying thank you, Daniel Logan. You made a great kid incredibly happy on his birthday, and I truly appreciate it.
Indeed, because of you, he was over the moon.
Wait…that's no moon…

GOT A QUESTION FOR THE HOUSE OF MUSKRAT?
Click here for our handy-dandy online Feedback Form! Please be sure to add your name, and where you're writing from. Or, drop us a line the old-fashioned way, at:
Muskrat Mailbag
Box 45063
Madison, WI 53744
If you're REALLY motivated, send us something  We love getting cool stuff in the mail!